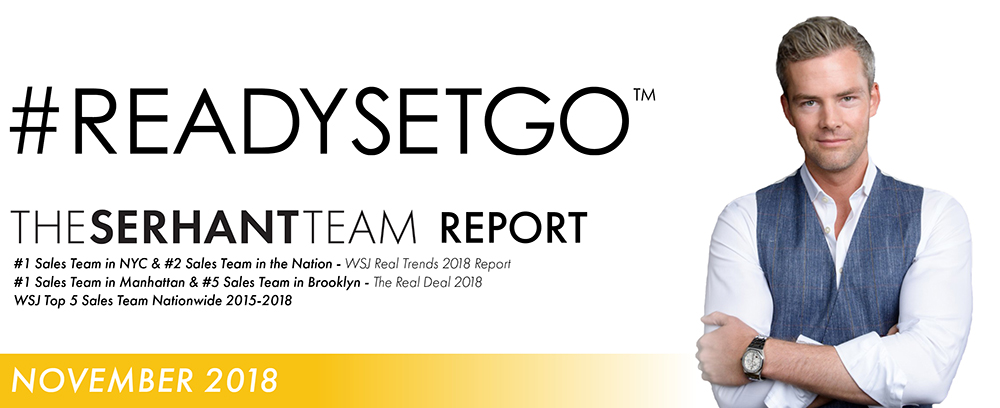 November 2018 Newsletter
FRIENDS,
Almost 3 years ago (in the February 2016 edition of this newsletter) I wrote a little about how social media had transformed the way we market properties and why it was so important for us to treat social platforms as legitimate avenues to reach buyers over traditional advertising platforms like The New York Times, etc. It's a lesson that doesn't only apply to real estate, of course. It can be, and has been, applied to every kind of business and brand, small and large. As a follow up to that 2016 letter, I wanted to share what we've done to grow our social presence in order to give our clients the MOST exposure for their properties. We take "market reach" very seriously, and we invest in it heavily:
1. I started a company called Serhant Media Group, in order to streamline and exponentially grow our presence across Instagram, Facebook, Twitter, LinkedIn and YouTube.
2. In the middle of last year, I brought in a guy named Joe Laresca. Joe is an entrepreneur in every sense of the word—he's founded several start-ups and his own entertainment and production company—but he's also a social media guru.
3. At the end of last year I hired a video and graphic team, led by Adam Hamwey. They've pioneered our VLOG on YouTube, where one of our most recent property videos has been viewed nearly 5 MILLION TIMES. They've taken us from 0 subscribes to nearly 200,000 in less than a year, creating beautiful content focused on our clients' properties and our daily lives as real estate brokers in New York.
4. We've grown my personal Instagram account by 30% and the Serhant Team Instagram account by 127%, all while almost DOUBLING the engagement of each. An October listings post received around 50,000 likes, 1,200 comments, and reached over 460,000 people! That's INCREDIBLE exposure for any property. Overall, we have more than 1.5 million followers across all of our social platforms and generate more than 8 million impressions/week. This means that more than 8 million people see what we post every week!
The results speak for themselves:
| Click image to enlarge |
And the icing on the cake? Our social expansion has benefited ALL OF OUR CLIENTS in the form of more traffic to our listings and more sales.
CASE STUDY: At 184 Kent, our new development in Williamsburg, a lot of people are worried about the L train shutting down next year. To counter that, Serhant Media Group created a video about the Ferry. We had fun with it and supported it with back-end advertising on all of our social platforms. So far we've sold 3 units as a DIRECT RESULT of that social campaign. We're going to continue to leverage social media to promote our listings, and we're excited about how it will evolve and grow in the future.
Authentically Yours,
Ryan Serhant
NEW LISTING
10 EAST 14TH STREET, PENTHOUSE A
$6,995,000
3 Bedrooms
2.5 Bathrooms
3,182 SQFT | 1,300 EXSF
CLOSED SALE
55 WEST 17TH STREET, 1401
$8,750,000
4 Bedrooms
4.5 Bathrooms
4,098 SQFT | 415 EXSF
IN CONTRACT
1 LEROY STREET, PH5C
$6,995,000
3 Bedrooms
3.5 Bathrooms
2,895 SQFT | 479 EXSF

545 WEST 20TH STREET, 2B
$5,500,000
4 Bedrooms
3.5 Bathrooms
4,017 SQFT